5th Sunday in Ordinary Time Year "A"
February 5, 2023
More Thoughts for the 5th Sunday in Ordinary Time Year A
The reading from Isaiah tells us that being devoted to God means taking care of those who need our help the most. God wants us to care from those on the margins. The list of actions which we should take are closely related to the Corporal Works of Mercy. Worshiping God also means using the gifts we have been giving to work for a just society.
We must do more than just pray for people. We are called to act. When we do this, then the darkness of society will be overcome with light. Malicious speech, hate, and condemnation will be less visible when our acts of love shine.
The gospel also uses the image of light. The good things we do glorify God, for the Light of Christ is shining through us. This is how the Kingdom of God grows.
Jesus also tells us that salt loses its flavor, then it is no longer really salt. Similarly, if we are all talk, but we don't understand the message of Christ crucified then we are missing a crucial characteristic of Christians. When people see our good works, then people can encounter Christ through us.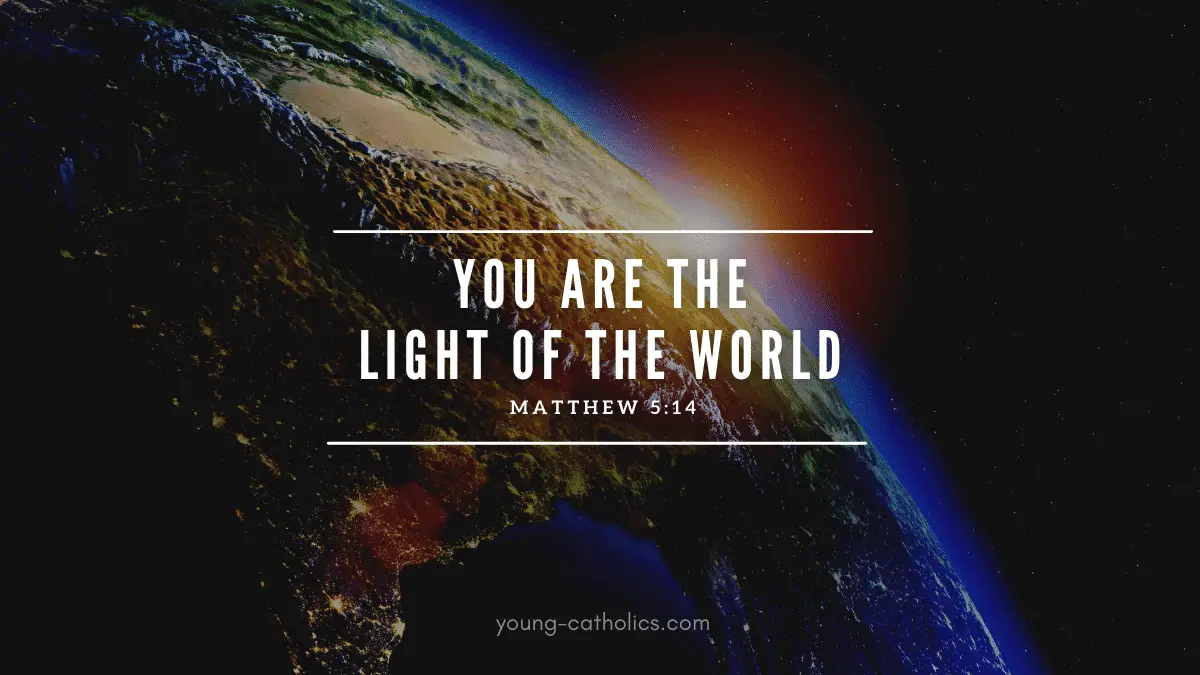 ---
Wspomnienia z pielgrzymki  do Matki Bożej
w Guadalupe, Mexico
w dniach od 7 do 16 grudnia 2022 roku odbyła się Pielgrzymka pt. "MEKSYK JAKIEGO NIE ZNACIE"
Była to przepiękna Pielgrzymka, której celem było wzięcie udziału w uroczystości Matki Bożej w Guadalupe, na które do Mexico City przybywają miliony pielgrzymów z całego świata.
Zwiedziliśmy również Pueble, Taxco, Tulum, oraz Czeczenicę- prekolumbijskie miasto Majów uznano za jeden Z SIEDMIU CUDÓW ŚWIATA. Pielgrzymi mogli doświadczyć pięknej prastarej kultury, muzyki, słońca oraz zasmakować meksykańskiego jedzenia. W pragramie pielgrzymki był wspaniały odpoczynek w Cancun śliczne plaże, – weseli i życzliwi ludzie.
Dziękujemy serdecznie za wspaniale połaczony czas modlitwy z odpoczynkiem.
Składamy serdeczne Bóg zapłać Księżom: Markowi Jankowskiemu, jezuicie oraz Ks. Mariuszowi Lis, chrystusowcowi za duchową opiekę; sprawowanie codziennej Mszy Św. oraz konferencje z życia duchowości Św. Ignacego z Loyoli.




————————————————————————
Wspomnienia z pielgrzymki  do Matki Bożej Wspomożenia Chrześcijan w Holy Hills
w Hubertus, w Stanie Wisconsin w dniu 9 listopada 2022 roku.
 Dziękuję wszystkim, którzy udali się na jednodniową pielgrzymkę do Matki Bożej Wspomożenia Wiernych w Holy Hill w stanie Wisconsin. Piękny słoneczny dzień 9 listopada uroczystość poświęcenia Bazyliki Najświętszego Zbawiciela, św. Jana Chrzciciela i św. Jana Ewangelisty na Lateranie. Autokarem w grupie 33 osób wyruszyliśmy w podróż. Był to czas modlitwy, pamięci o naszych bliskich zmarłych oraz  wspaniały czas bycia ze sobą.

Pierwszym naszym miejscem nawiedzenia Świątyni była przepiękna Bazylika pw. Świętego Jozafata, wybudowana w stylu neorenesansowym w latach 1897 – 1901. Bazylika jest uosobieniem dążeń pierwszych polskich imigrantów do wyrażania swojego dziedzictwa etnicznego, duchowego oddania i dumy patriotycznej poprzez budowanie imponujących domów modlitwy. Pierwsi Polacy przybyli do Milwaukee w latach czterdziestych XIX wieku, ale ich liczba stała się znacząca dopiero po wojnie secesyjnej. Pod koniec XIX wieku polscy imigranci napływali do Milwaukee tysiącami, szybko stając się drugą co do wielkości grupą etniczną w najbardziej niemieckim mieście kraju. W 1866 roku trzydzieści polskich rodzin założyło parafię św. Stanisława w południowej części Milwaukee jako pierwszą polską parafię miejską w Stanach Zjednoczonych. Parafia św. Jozafata została utworzona w 1888 roku jako odgałęzienie parafii św. Stanisława, a następnie stała się największą polską parafią w Wisconsin. Jej pierwszym domem był skromny budynek, który doszczętnie spłonął w 1889 roku. Parafia wybudowała drugi kościół, ale był on za mały na jej potrzeby. Polacy byli największą z europejskich grup imigrantów, którzy osiedlili się w Milwaukee po 1870 r. Przyciągnięci obietnicą pracy i ucieczką przed uciskiem religijnym i obowiązkową służbą wojskową, ich populacja wzrosła do prawie 60 000 do 1900 r. – ustępując jedynie Niemcom. Polacy byli jednolicie katolicy, a kościół stał się społecznym i duchowym centrum ich społeczności. Do 1900 roku w Milwaukee istniało siedem polskich kościołów katolickich, każdy z własną szkołą parafialną. Ta rozwijająca się społeczność imigrantów pragnęła wybudować kościół, aby zaspokoić potrzeby ponad 12 000 parafian pod koniec XIX wieku. Grunt został zerwany w 1896 roku, a nowy budynek miał być gotowy w 1901 roku. Ówczesny Proboszcz, ksiądz Wilhelm Grutza, zatrudnił urodzonego w Niemczech architekta, Erharda Brielmaiera, do zaprojektowania czegoś, co w istocie jest mniejszą wersją bazyliki św. Piotra w Rzymie. Kościół miałby ten sam plan piętra w kształcie krzyża i ogromną centralną kopułę, które wyróżniają kościół św. Piotra.
Kiedy plany były już prawie gotowe, ks. Grutza dowiedział się, że poczta i urząd celny w Chicago muszą zostać zrównane z ziemią i był w stanie je kupić za 20 000 dolarów. Budynek został rozebrany, a odzyskane materiały załadowano na 500 platform kolejowych i przewieziono do Milwaukee. Składowano je na pustej działce po drugiej stronie ulicy. Obecnie Bazylika pełni funkcję Parafii w której duszpasterstwo prowadzą Ojcwie Franciszkanie. Została wybudowana stosunkowo szybko bo w okresie sześciu lat przez polskich emigrantów. Jest prześliczna, godna odwiedzenia czuje się w niej obecność Boga. Jest to perełka architektury z niesamowitymi witrażami i przebogatym trzypoziomowym sklepieniem wydarzeń biblijnych. Są w niej polskie akcenty oraz napisy w języku polskim. Gospodarze cieszą się kiedy Polacy i Polonia nawiedza tę Świątynię. Świątynia pełni funkcję kościoła parafialnego.
Drugim naszym miejscem zatrzymania się była Parafia Świętych Cyryla i Metodego w Milwaukee, Wisconsin. Nie mógł jechać z nami żaden kapłan z parafii Św. Alberta Wielkiego dlatego po drodze zatrzymaliśmy się w tejże Parafii, gdzie proboszczem jest Ks. Edward Traczyk SChr – chrystusowiec. Ksiądz Edward czekał na nas w drzwiach kościoła. Odprawił dla nas Mszę Św. i opowiedział w skrócie 132 letnią historię swojej parafii. Te parafię tworzył gorliwy kapłan Szukalski. Zaznaczył, że kiedyś ta parafia była prężna, należało do niej 12,000 wiernych, a dzisiaj 120 rodzin. Jest to przykre, że dzisiaj największym zmartwieniem proboszcza utrzymanie obiektów. Potrzeba odrodzenia wiary i nawróćenia dla tych, ktorzy odeszli od Boga i Kościoła. Dziękuje ks. Edwardowi za odprawienie Mszy Świętej, homilię oraz przedstawienie krótkiej historii Parafii.



Trzecim docelowym naszym miejscem była Bazylika Świętego Wzgórza i Narodowego Sanktuarium Maryi Wspomożenia Chrześcijan. Bazylikę otwarto 24 maja w 1863 roku. Sanktuarium znajduje się na szczycie wysokiego wzniesienia w lesie o powierzchni 400 akrów (1,6 km2). Odwiedzający mogą wspiąć się na 178-stopniową wieżę obserwacyjną, aby zobaczyć panoramę Milwaukee, około trzydziestu mil (50 km) na południowy wschód. Na wysokości około 1350 stóp (410 m) nad poziomem morza jest to jeden z najwyższych punktów w południowo-wschodnim Wisconsin. Tradycja głosi, że wzgórze zostało odkryte przez Europejczyków 349 lat temu w 1673 roku przez ojca Jacquesa Marquette'a wraz z Louisem Jollietem.

Pierwszym białym mieszkańcem wzgórza był pustelnik François Soubrio. Około 1862 roku mieszkający na wzgórzu znalazł go okoliczny rolnik. Soubrio słyszał o wzgórzu, kiedy pracował jako asystent emerytowanego profesora w Quebecu w Kanadzie. Znalazł stary francuski pamiętnik i mapę z 1676 roku, przedstawiające stożkowatą górę w Wisconsin. W pamiętniku opisano, jak autor ustawił kamienny ołtarz, wzniósł krzyż i poświęcił wzgórze matce Jezusa, Marii. Relacja z dziennika odpowiada jezuickiej pracy misyjnej na tym terenie w latach 1673-1679.
Nazwa "Holy Hill" została po raz pierwszy nadana temu miejscu przez irlandzkich osadników w okolicy. Ojciec George Strickner poświęcił kaplicę z bali jako pierwsze Sanktuarium Maryi Wspomożycielki 24 maja 1863 r.W 1875 r. postawiono zestaw drewnianych krzyży do stacji Drogi Krzyżowej. Zimą 1879 r. ks. Raess wysłał propozycję do arcybiskupa Johna Henniego, aby zbudować nowe sanktuarium Maryi. Budowa rozpoczęła się tej wiosny. Do sanktuarium zaczęli napływać pielgrzymi i zdecydowano, że sanktuarium powinien zarządzać zakon. Grupa karmelitów bosych przybyła z Bawarii na zaproszenie arcybiskupa Sebastiana Messmera, a Sanktuarium Maryi zostało oddane pod ich opiekę 26 czerwca 1906 roku. Budynek znany obecnie jako Zajazd i Ośrodek Rekolekcyjny Starego Klasztoru został ukończony w 1920 r. Drugie sanktuarium usunięto w 1925 r., Aby można było zbudować trzecie sanktuarium. Kamień węgielny pod trzecią i obecną świątynię położył abp Messmer 22 sierpnia 1926 r. Obecny kościół został ukończony i konsekrowany w 1931 roku.
Inna tradycja opisuje niemieckiego księdza, który wrócił do swoich ślubów i przybył do Ameryki na pokutę. Znalazł wzmiankę o wzgórzu w dzienniku Marquette'a i postanowił odbyć pielgrzymkę. Zachorował w Chicago i został sparaliżowany. Podobno znalazł wzgórze, wczołgał się na szczyt na rękach i został wyleczony z paraliżu.
Co to jest nasze pielgrzymowanie? Nasze pielgrzymowanie są to swoiste rekolekcje w drodze prowadzone przez Parafię Świętego Alberta Wielkiego, Księdza Proboszcza Mariusza Nawalaniec oraz Siostry Misjonarki Chrystusa Króla. To była nasza 22 pielgrzymka w przeciągu kilku ostanich lat. Każdy wyjazd przebiega pod innym mottem zaczerpniętym z ksiąg Ewangelii. Wyjazdy nie mają charakteru wycieczkowego ale pątniczy. Przez cały czas towarzyszy nam modlitwa, rozważanie Słowa oraz katecheza. Podziwiamy także dzieła Stwórcy i staramy się utrzymać równowagę pomiędzy modlitwą, a wypoczynkiem. Staramy się aby wśród pielgrzymów panowała atmosfera rodzinna. Przez cały wyjazd jest możliwość skorzystania z sakramentu pojednania, rozmowy z kapłanem. Codziennie przeżywamy największy cud z cudów – Eucharystię. Staramy się naszymi wyjazdami wspierać Kościół i Parafie, które nawiedzamy.
PIELGRZYMKA DO SANKTUARIUM
MATKI BOŻEJ LUDŹMIERSKIEJ W MUNSTER INDIANA
W Niedzielę 13 listopada 2022 roku Sr. Weronika Ilnicka zorganizowała wyjazd do Sanktuarium p.w. Matki Bożej Ludźmierskiej w Munster Indiana. Było to nasze miesięczne spotkanie połączone z przyjęciem Szkaplerza. Ojciec Bartłomiej Stanowski, karmelita bosy wygłosił specjalną konferencję ascetyczną na temat modlitwy i medytacji tajemnic naszego zabwienia w podczas odmawiania Różańca Święteg, następnie wyjaśnił co to znaczy przyjąć szkaplerz. Powiedział Szkaplerz noś na Różańcu proś. Żyj i naśladuj Najświętszą Maryję Pannę. na rónależeć do Rodziny oodmawiania  miesięcPielgrzymka do Sanktuarium Matki Bożej Ludźmierskiej w Munster Indiana
Według tradycji, Matka Boża objawiła się św. Szymonowi Stockowi, generałowi karmelitów, w nocy z 15 na 16 lipca 1251 r. i powiedziała: "Przyjmij, najmilszy synu, szkaplerz twojego zakonu. Kto w nim umrze, nie dozna ognia piekielnego". Obiecała noszącym szkaplerz, że zaopiekuje się nimi za życia, a w godzinie śmierci stanie przy nich i zaprowadzi do nieba. Dodatkowo papieżowi Janowi XXII zapowiedziała tzw. przywilej sobotni, który polega na tym, że w pierwszą sobotę po śmierci Matka Boża zejdzie do czyśćca i zabierze z niego te dusze, które według swojego powołania zachowały czystość, a także tych, którzy za życia modlili się za Kościół.



IN NOVEMBER – PRAY DAILY FOR THE SOULS IN PURGATORY!

Preparing for Confession
What is the Sacrament of Penance (Reconciliation)?
Penance is a Sacrament in which the sins committed after Baptism are forgiven. It is a Sacrament of healing from our wounds of sins. It also should help you receive the knowledge on how to avoid all sin. This Sacrament was instituted by Christ to His Apostles to be passed on to each generation (John 20:21) (Matthew 16:18) through the ministerial priesthood.
Prayer before Confession
O Holy Spirit, source of all light, come to my assistance and enable me to make a good confession. Enlighten me, and help me to know my sins as one day I shall be forced to recognize them before Christ's judgment seat. Bring to my mind the evil which I have done and the good which I have neglected. Grant me, moreover, heartfelt sorrow for my sins, and the grace of a sincere confession, so that I may be forgiven and brought into your everlasting friendship. Mary, my Mother, pray for me to make a good confession. (Hail Mary, 3 times)
Sin in my Life
Modern society has lost a sense of sin. As a Catholic follower of Christ, I must make an effort to recognize sin in my daily actions, words and omissions.
The Gospels show how important is the forgiveness of our sins. Lives of saints prove that the person who grows in holiness has a stronger sense of sin, sorrow for sins, and a need for the Sacrament of Penance or Confession.
The Differences in Sins
As a result of Original Sin, human nature is weakened. Baptism, by imparting the life of Christ's grace, takes away Original Sin, and turns us back toward God. The consequences of this weakness and the inclination to evil persist, and we often commit personal or actual sin.
Actual sin is sin which people commit. There are two kinds of actual sin, mortal and venial.
Mortal sin is a deadly offense against God, so horrible that it destroys the life of grace in the soul. Three simultaneous conditions must be fulfilled for a mortal sin: 1) the act must be something very serious; 2) the person must have sufficient understanding of what is being done; 3) the person must have sufficient freedom of the will.
Remember
If you need help-especially if you have been away for some time-simply ask the priest and he will help you by "walking" you through the steps to make a good confession.
Before Confession
Be truly sorry for your sins. The essential act of Penance, on the part of the penitent, is contrition, a clear and decisive rejection of the sin committed, together with a resolution not to commit it again, out of the love one has for God and which is reborn with repentance. The resolution to avoid committing these sins in the future (amendment) is a sure sign that your sorrow is genuine and authentic. This does not mean that a promise never to fall again into sin is necessary. A resolution to try to avoid the near occasions of sin suffices for true repentance. God's grace in cooperation with the intention to rectify your life will give you the strength to resist and overcome temptation in the future.
Examination of Conscience
Before going to Confession you should make a review of mortal and venial sins since your last sacramental confession, and should express sorrow for sins, hatred for sins and a firm resolution not to sin again.
A helpful pattern for examination of conscience is to review the Commandments of God and the Precepts of the Church:
Have God and the pursuit of sanctity in Christ been the goal of my life? Have I denied my faith? Have I placed my trust in false teachings or substitutes for God? Did I despair of God's mercy?
Have I avoided the profane use of God's name in my speech? Have I broken a solemn vow or promise?
Have I honored every Sunday by avoiding unnecessary work, celebrating the Mass (also holydays)? Was I inattentive at, or unnecessarily late for Mass, or did I leave early? Have I neglected prayer for a long time?
Have I shown Christlike respect to parents, spouse, and family members, legitimate authorities? Have I been attentive to the religious education and formation of my children?
Have I cared for the bodily health and safety of myself and all others? Did I abuse drugs or alcohol? Have I supported in any way abortion, "mercy killing," or suicide?
Was I impatient, angry, envious, proud, jealous, revengeful, lazy? Have I forgiven others?
Have I been just in my responsibilities to employer and employees? Have I discriminated against others because of race or other reasons?
Have I been chaste in thought and word? Have I used sex only within marriage and while open to procreating life? Have I given myself sexual gratification? Did I deliberately look at impure TV, pictures, reading?
Have I stolen anything from another, from my employer, from government? If so, am I ready to repay it? Did I fulfill my contracts? Did I rashly gamble, depriving my family of necessities?
Have I spoken ill of any other person? Have I always told the truth? Have I kept secrets and confidences?
Have I permitted sexual thoughts about someone to whom I am not married?
Have I desired what belongs to other people? Have I wished ill on another?
Have I been faithful to sacramental living (Holy Communion and Penance)?
Have I helped make my parish community stronger and holier? Have I contributed to the support of the Church?
Have I done penance by abstaining and fasting on obligatory days? Have I fasted before receiving communion?
Have I been mindful of the poor? Do I accept God's will for me?
EXAMINATION OF CONSCIENCE
The Ten Commandments
1) I am the Lord thy God; thou shalt not have strange Gods before me.
The first commandment forbids the worship of false gods, belief in fortune tellers or astrology. We sin against the first commandment by putting anyone or anything in God's place, such as sports, TV, humans, food, material goods, Internet, radio, sex, alcohol, drugs. By failing to show respect for persons, places and things related especially to God, by atheism, heresy and schism, and by missing Mass on Sundays and Holy Days of Obligation. This, too, involves neglecting to learn the truths about God, leaving God's Catholic Church, (when we have believed it is completely faithful in teaching God's truths to show all men God's salvation). We show great honor to God's name by invoking Him with reverence in our prayers and worship.
2) Thou shalt not take the name of the Lord thy God in vain.
The second commandment forbids all false, rash, unjust and unnecessary oaths, blasphemy, cursing and profane words (e.g. cussing, damning God's holy name).
3) Remember, thou keep holy the Sabbath.
The third commandment obliges us to hear Mass on Sundays and Holy Days of Obligation, forbids all unnecessary servile work on Sunday. By resting from our usual work, we find it easier to join with family members and other Christians in making Sunday a day of celebration.
4) Honor thy Father and Mother.
The fourth commandment forbids all disobedience, contempt and stubbornness towards our parents or lawful superiors, (e.g. talking back to parents and teachers, being disobedient to all authority unless sin is involved). We show our love for our neighbor when we obey all lawful authority whether it be at home, in civil society, or in the church. Even authority of civil government comes from God. St. Paul wrote: "Let every soul be subject to higher powers, for there is no power but from God. And those that are, are ordained by God. (Romans 13: 1-2).
5) Thou shalt not kill.
The fifth commandment forbids all willful murder, fighting, anger, hatred, revenge, bad example, abortion and unlawful birth control. Christ came to give us life, not take it. All followers of Christ should oppose whatever tends to destroy or abuse human life: murder, suicide, abortion, mercy killing, drug abuse, drunkenness, fighting, and anger. "Whoever hates his brother is a murderer." (1 John 3:15)
6) Thou shalt not commit adultery.
7) Thou shalt not steal.
It is sinful to be selfishly apathetic towards others in need, to violate the rights of others, to steal, to deliberately damage others good name or property, to cheat, to not pay one's debt, or to unjustly discriminate another.
8) Thou shalt not bear false witness against thy neighbor.
The eighth commandment forbids all rash judgment, back-biting, slander, gossip and lies. Exaggerating about another's faults, telling tales about them or damaging a person's reputation is all a sin against the eighth commandment. "To speak evil of no man, not to be litigious, but gentle: showing all mildness towards all men.) (Titus 3: 1-2)
9) Thou shalt not covet thy neighbor's wife.
The sixth and the ninth commandments forbid unchaste thoughts or desires on another's husband or wife; all impurity and immodesty in words, looks, thoughts, entertainment, actions, the clothes you wear. The use of the sexual faculty is a right and privilege of those validly married. Therefore, adultery, fornication (sex before marriage), masturbation, pornography, indecent entertainment, acts of impurity and a fully deliberate desire to commit these acts is all seriously wrong and a sin against the sixth and ninth commandment. "But I say to you, that whoever shall look on a woman to lust after her has al-ready committed adultery with her in his heart." (Matthew 5: 27-28)
10) Thou shalt not covet thy neighbors goods.
The tenth commandment forbids all desires to take or keep wrongfully what belongs to another. All of the goods of this world come from the good God. He has put more than enough of them at the disposal of men. The material goods that God gives us are not for ourselves alone. He gave them to be shared
with the less fortunate, especially those in desperate need. Other sins against the tenth commandment are – fraud, damaging property of another, not paying debt, not making an effort to find the owner of a material you found, depriving a laborer of just wage, wasting time and money, depriving the family the money needed by wasting it on gambling, drinking and all kinds of foolish needs.
The Seven Capital Sins
Pride, covetousness, lust, anger, gluttony, envy and sloth.
What is necessary to make a good Confession?
A) Examination of Conscience B) Confess all sins, even venial sins C) Sorrow of sin (not wanting to commit the same sin ever again) D) Firm resolution never more to offend God E) Confess our sins to a priest. (Tell all of the mortal sins you have committed and how many times that you can remember). F) Say the penance which the priest gives us.
Method of Confessing
Enter the Confessional, start with the sign of the Cross, with a moderate low voice — Say: Bless me Father for I have sinned. I confess to Almighty God, and to you Father. It is (how long) since my last Confession.
Tell all your sins. Listen to the priest, answer all questions. Pay attention to the penance given. While the priest recites Absolution, say your Act of Contrition. "And go and sin no more."
Act of Contrition
O My God, I am heartily sorry for having offended you, because I dread the loss of heaven and the pains of hell, but most of all because I have offended you who art so good and deserving of all my love. I firmly resolve with the help of your grace, to confess my sins, to do penance and to amend my life. Amen.
During Confession
After examining your conscience and telling God of your sorrow, go into the confessional. You may kneel at the screen or sit to talk face-to-face with the priest.
Every Friday and especially First Friday
pray to the Sacred Heart of Jesus!

The Litany of the Sacred Heart
Lord, have mercy on us.
Christ, have mercy on us.
Lord, have mercy on us.
Christ, hear us.
Christ, graciously hear us.
God the Father of Heaven,
Have mercy on us.
God the Son, Redeemer of the world,
Have mercy on us.
God the Holy Spirit,
Have mercy on us.
Holy Trinity, one God,
Have mercy on us.Heart of Jesus, Son of the Eternal Father,
Have mercy on us.
Heart of Jesus, Formed by the Holy Ghost in the womb of the Virgin Mother,
Have mercy on us.
Heart of Jesus, Substantially united to the Word of God,
Have mercy on us.
Heart of Jesus, Of Infinite Majesty,
Have mercy on us.
Heart of Jesus, Holy Temple of God,
Have mercy on us.
Heart of Jesus, Tabernacle of the Most High,
Have mercy on us.
Heart of Jesus, House of God and Gate of Heaven,
Have mercy on us.
Heart of Jesus, Burning Furnace of charity,
Have mercy on us.
Heart of Jesus, Vessel of Justice and love,
Have mercy on us.
Heart of Jesus, Full of goodness and love,
Have mercy on us.
Heart of Jesus, Abyss of all virtues,
Have mercy on us.
Heart of Jesus, Most worthy of all praises,
Have mercy on us.
Heart of Jesus, King and center of all hearts,
Have mercy on us.
Heart of Jesus, In Whom are all the treasures of wisdom and knowledge,
Have mercy on us.
Heart of Jesus, In Whom dwelleth all the fulness of the Divinity,
Have mercy on us.
Heart of Jesus, in Whom the Father is well pleased,
Have mercy on us.
Heart of Jesus, Of Whose fullness we have all received,
Have mercy on us.
Heart of Jesus, Desire of the everlasting hills,
Have mercy on us.
Heart of Jesus, Patient and abounding in mercy,
Have mercy on us.
Heart of Jesus, Rich unto all who call upon Thee,
Have mercy on us.
Heart of Jesus, Fountain of life and holiness,
Have mercy on us.
Heart of Jesus, Atonement for our sins,
Have mercy on us.
Heart of Jesus, Filled with reproaches,
Have mercy on us.
Heart of Jesus, Bruised for our offenses,
Have mercy on us.
Heart of Jesus, Made obedient unto death,
Have mercy on us.
Heart of Jesus, Pierced with a lance,
Have mercy on us.
Heart of Jesus, Source of all consolation,
Have mercy on us.
Heart of Jesus, Our Life and Resurrection,
Have mercy on us.
Heart of Jesus, Our Peace and Reconciliation,
Have mercy on us.
Heart of Jesus, Victim for our sins,
Have mercy on us.
Heart of Jesus, Salvation of those who hope in Thee,
Have mercy on us.
Heart of Jesus, Hope of those who die in Thee,
Have mercy on us.
Heart of Jesus, Delight of all the Saints,
Have mercy on us.Lamb of God Who takest away the sins of the world,
Spare us, O Lord.
Lamb of God Who takest away the sins of the world,
Graciously hear us, O Lord.
Lamb of God Who takest away the sins of the world,
Have mercy on us.
Jesus, meek and humble of heart,
Make our hearts like unto Thine.
Let us pray. Almighty and eternal God, look upon the Heart of Thine most-beloved Son, and upon the praises and satisfaction He offers Thee in the name of sinners; and appeased by worthy homage, pardon those who implore Thy mercy, in Thy Great Goodness in the name of the same Jesus Christ Thy Son, Who liveth and reigneth with Thee, in the unity of the Holy Ghost, world without end.

                                                            Join us on Tuesdays for the
                                                                     St. Albert the Great
                                                                             B I N G O
                                           Doors open at 4:45 pm, Games begin at 6:45 pm.
                                  Full restaurant style kitchen,  Join us for an evening of fun.
—————————————————————————————————-
"Ja jestem chlebem życia.
Kto do Mnie przychodzi, nie będzie łaknął;
a kto we Mnie wierzy,nigdy pragnąć nie będzie"


Catholics need better understanding of the Mass, pope Francis says:

"Beauty, just like truth, always engenders wonder, and when these are referred to the mystery of God, they lead to adoration," he wrote in an apostolic letter "on the liturgical formation of the people of God." Titled "Desiderio Desideravi" ("I have earnestly desired"), the letter was released June 29, the feast of Sts. Peter and Paul. The title comes from Luke 22:15 when, before the Last Supper, Jesus tells his disciples,
"I have earnestly desired to eat this Passover with you before I suffer."
In the letter, Pope Francis insisted that Catholics need to better understand the liturgical reform of the Second Vatican Council and its goal of promoting the "full, conscious, active and fruitful celebration" of the Mass.  "With this letter I simply want to invite the whole church to rediscover, to safeguard and to live the truth and power of the Christian celebration," the pope wrote. "I want the beauty of the Christian celebration and its necessary consequences for the life of the church not to be spoiled by a superficial and foreshortened understanding of its value or, worse yet, by its being exploited in service of some ideological vision, no matter what the hue."
"The priestly prayer of Jesus at the Last Supper that all may be one judges every one of our divisions around the bread broken, around the sacrament of mercy, the sign of unity, the bond of charity," he said. While his letter offered what he called a "meditation" on the power and beauty of the Mass, Pope Francis also reiterated his conviction of the need to limit celebrations of the liturgy according to the rite in use before the Second Vatican Council. "We cannot go back to that ritual form which the council fathers, 'cum Petro et sub Petro,' (with and under Peter) felt the need to reform, approving, under the guidance of the Holy Spirit and following their conscience as pastors, the principles from which was born the reform."
The liturgical books approved by "the holy pontiffs St. Paul VI and St. John Paul II," he said, "have guaranteed the fidelity of the reform of the council." Although the post-Vatican II Mass is celebrated in Latin and dozens of vernacular languages, he said, it is "one and the same prayer capable of expressing her (the church's) unity." "As I have already written, I intend that this unity be reestablished in the whole church of the Roman rite," he said, which is why in 2021 he promulgated "Traditionis Custodes" (Guardians of the Tradition), limiting celebrations of the Mass according to the rite used before the Second Vatican Council.  The bulk of the pope's new letter focused on helping Catholics learn to recognize and be astounded by the great gift of the Mass and the Eucharist and how it is not simply a weekly "staging" or "representation" of the Last Supper but truly allows people of all times and all places to encounter the crucified and risen Lord and to eat his body and drink his blood. And, the pope wrote, it is essential to recognize that the Mass does not belong to the priest or to any individual worshipper, but to Christ and his church.
"The liturgy does not say 'I' but 'we,' and any limitation on the breadth of this 'we' is always demonic," he said. "The liturgy does not leave us alone to search out an individual supposed knowledge of the mystery of God. Rather, it takes us by the hand, together, as an assembly, to lead us deep within the mystery that the word and the sacramental signs reveal to us."
"Consistent with all action of God," he said, the liturgy leads people into the mystery using symbolic actions and signs.
Pope Francis acknowledged that some people claim that in reforming the liturgy and allowing celebrations of the Mass in the language of the local congregation it has somehow lost what is "meant by the vague expression 'sense of mystery." But the mystery celebrated and communicated, he said, is not about "a mysterious rite. It is, on the contrary, marveling at the fact that the salvific plan of God has been revealed in the paschal deed of Jesus."  The liturgy is uses "things that are the exact opposite of spiritual abstractions: bread, wine, oil, water, fragrances, fire, ashes, rock, fabrics, colors, body, words, sounds, silences, gestures, space, movement, action, order, time, light," he said. Those concrete things proclaim that "the whole of creation is a manifestation of the love of God, and from when that same love was manifested in its fullness in the cross of Jesus, all of creation was drawn toward it." However, Pope Francis wrote, the words and gestures and symbols to be used are only those approved by the church. "Let us be clear here: every aspect of the celebration must be carefully tended to — space, time, gestures, words, objects, vestments, song, music — and every rubric must be observed," he wrote. Otherwise, the celebrant or ministers risk "robbing from the assembly what is owed to it; namely, the paschal mystery celebrated according to the ritual that the church sets down." Pope Francis said "the non-acceptance of the liturgical reform" of Vatican II, as well as "a superficial understanding of it, distracts us from the obligation of finding responses to the question that I come back to repeating: How can we grow in our capacity to live in full the liturgical action? How do we continue to let ourselves be amazed at what happens in the celebration under our very eyes?" "We are in need of a serious and dynamic liturgical formation," he said.
"Always pray and never give up" – Luke 18:1
Pray for God's Peace in the World!

Almighty and eternal God,
in your unfailing love you provide
ministers for your Church.
We pray for those whom you call
to serve the Church of St. Albert the Great as priests
Inspire in them a generous response.
Grant them courage and vision to
serve your people
May their lives and service call your
people to respond to the presence
of your Spirit among us
that, faithful to the Gospel and
hope of Jesus the Christ, we may:
announce glad tidings to the poor
proclaim liberty to captives,
set prisoners free
and renew the face of the earth. Amen!

How to Recite the Chaplet
The Chaplet of Mercy is recited using ordinary Rosary beads of five decades. The Chaplet is preceded by two opening prayers from the Diary of Saint Maria Faustina Kowalska and followed by a closing prayer.
---
1. Make the Sign of the Cross
In the name of the Father, and of the Son, and of the Holy Spirit. Amen.
2. Optional Opening Prayers
St. Faustina's Prayer for Sinners
O Jesus, eternal Truth, our Life, I call upon You and I beg Your mercy for poor sinners. O sweetest Heart of my Lord, full of pity and unfathomable mercy, I plead with You for poor sinners. O Most Sacred Heart, Fount of Mercy from which gush forth rays of inconceivable graces upon the entire human race, I beg of You light for poor sinners. O Jesus, be mindful of Your own bitter Passion and do not permit the loss of souls redeemed at so dear a price of Your most precious Blood. O Jesus, when I consider the great price of Your Blood, I rejoice at its immensity, for one drop alone would have been enough for the salvation of all sinners. Although sin is an abyss of wickedness and ingratitude, the price paid for us can never be equalled. Therefore, let every soul trust in the Passion of the Lord, and place its hope in His mercy. God will not deny His mercy to anyone. Heaven and earth may change, but God's mercy will never be exhausted. Oh, what immense joy burns in my heart when I contemplate Your incomprehensible goodness, O Jesus! I desire to bring all sinners to Your feet that they may glorify Your mercy throughout endless ages (Diary of Saint Maria Faustina Kowalska, 72).
You expired, Jesus, but the source of life gushed forth for souls, and the ocean of mercy opened up for the whole world. O Fount of Life, unfathomable Divine Mercy, envelop the whole world and empty Yourself out upon us.
(Repeat three times)
O Blood and Water, which gushed forth from the Heart of Jesus as a fount of mercy for us, I trust in You!
3. Our Father
Our Father, Who art in heaven, hallowed be Thy name; Thy kingdom come; Thy will be done on earth as it is in heaven. Give us this day our daily bread; and forgive us our trespasses as we forgive those who trespass against us; and lead us not into temptation, but deliver us from evil, Amen.
4. Hail Mary
Hail Mary, full of grace. The Lord is with thee. Blessed art thou amongst women, and blessed is the fruit of thy womb, Jesus. Holy Mary, Mother of God, pray for us sinners, now and at the hour of our death, Amen.
5. The Apostles' Creed
I believe in God, the Father almighty, Creator of heaven and earth, and in Jesus Christ, His only Son, our Lord, who was conceived by the Holy Spirit, born of the Virgin Mary, suffered under Pontius Pilate, was crucified, died and was buried; He descended into hell; on the third day He rose again from the dead; He ascended into heaven, and is seated at the right hand of God the Father almighty; from there He will come to judge the living and the dead. I believe in the Holy Spirit, the holy catholic Church, the communion of saints, the forgiveness of sins, the resurrection of the body, and life everlasting. Amen.
6. The Eternal Father
Eternal Father, I offer you the Body and Blood, Soul and Divinity of Your Dearly Beloved Son, Our Lord, Jesus Christ, in atonement for our sins and those of the whole world.
7. On the 10 Small Beads of Each Decade
For the sake of His sorrowful Passion, have mercy on us and on the whole world.
8. Repeat for the remaining decades
Saying the "Eternal Father" (6) on the "Our Father" bead and then 10 "For the sake of His sorrowful Passion" (7) on the following "Hail Mary" beads.
9. Conclude with Holy God (Repeat three times)
Holy God, Holy Mighty One, Holy Immortal One, have mercy on us and on the whole world.
10. Optional Closing Prayers
Eternal God, in whom mercy is endless and the treasury of compassion — inexhaustible, look kindly upon us and increase Your mercy in us, that in difficult moments we might not despair nor become despondent, but with great confidence submit ourselves to Your holy will, which is Love and Mercy itself.
O Greatly Merciful God, Infinite Goodness, today all mankind calls out from the abyss of its misery to Your mercy — to Your compassion, O God; and it is with its mighty voice of misery that it cries out. Gracious God, do not reject the prayer of this earth's exiles! O Lord, Goodness beyond our understanding, Who are acquainted with our misery through and through, and know that by our own power we cannot ascend to You, we implore You: anticipate us with Your grace and keep on increasing Your mercy in us, that we may faithfully do Your holy will all through our life and at death's hour. Let the omnipotence of Your mercy shield us from the darts of our salvation's enemies, that we may with confidence, as Your children, await Your [Son's] final coming — that day known to You alone. And we expect to obtain everything promised us by Jesus in spite of all our wretchedness. For Jesus is our Hope: through His merciful Heart, as through an open gate, we pass through to heaven (Diary, 1570).
24 Hour Prayer for Ukraine Schedule

Click Here